The pandemic has changed the way we look at the world and do business. COVID-19 crippled the travel industry, but people continue to daydream about traveling again. Once herd immunity is reached and this is well behind us, people will be embarking on trips again like never before.
Staying on top of travel plans to gain consumer touchpoints now will keep your marketing team one step ahead of everybody else. Let's take a look at the current situation and how travel plans can help you.
The Current Situation
The travel industry lost 42% of its revenue in 2020 due to travel restrictions and the pandemic. Google trends show a sharp increase in people searching for the term "travel" between February and early March 2020 worldwide. The rise in searches was followed by a significant drop below the five-year average, indicating that people had given up on travel plans for the time being. In July, "travel" searches returned to normal levels, and, as the second wave started to hit, dropped again.
According to USA Travel, road travel almost completely recovered, while air travel remained down 64% in January 2021. Consumer polling revealed that as of January 2021, Americans were daydreaming about travel once more. They talked to their friends about going places and were searching the internet for getaways when they feel more comfortable leaving home. Half of the group surveyed reported that they would start traveling when vaccinations become widely available. While COVID-19 has certainly affected the travel industry and the way people travel, people remain interested in traveling and will do so again soon if they aren't already doing so.
How Consumer Travel Plans Help You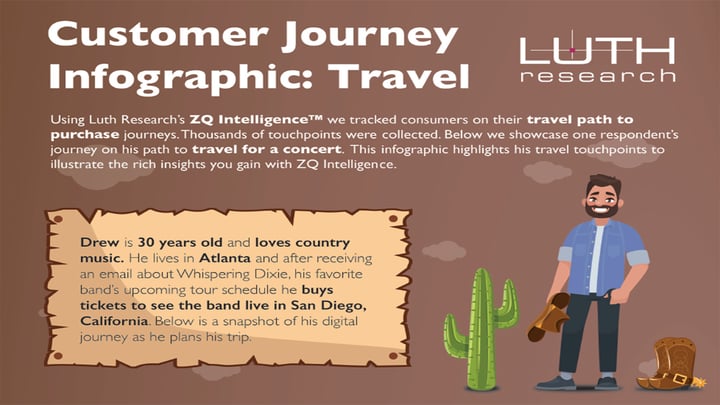 Traveling and making travel plans will soon be back to or above normal levels. Understanding how potential customers search for and make travel plans will give you a good understanding of where you are most likely to find them on the internet and in real life.
Consumer travel data comprises many data points, including:
The reason for traveling
Websites where events, travel, and other tickets were bought and what they were for
Where people plan to stay
Their mode of travel
How they plan to get around
What areas they will be in
Items they purchase for traveling
What they do when they arrive at their destination
This consumer data benefits companies in an array of industries, not just the travel industry. For example, a retailer could learn that most consumers of similar products purchase travel items online at Amazon.com. This information could lead them to open an Amazon store, expand their omnichannel retailing plan, and boost sales. If you are in the travel industry, tracking consumer behavior around travel can give you insights into how consumers are searching, booking, planning for your specific category (hotels, rental cars, restaurants, etc. ).
Are You Ready?
Are you ready for the return of travel and all of the information that can be gathered from consumers making travel plans? The best way to be prepared is to use the best tools available. Luth Research offers rich digital tracking insights that filter out the noise and give you the data you need to create profitable marketing strategies.